2021 Mashup — 35 Inspiring Conversations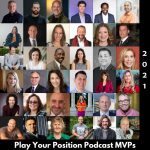 The 2021 Mashup from PYP is here!
This is the time of year when many of us in the podcasting space, in the blogging space, in the entire universe of the online space do an end of the year wrap-up, mash-up, retrospective, whatever word you want to use. Here at PYP is no different.
Like 2020 was defined by many unknowns, 2021 has been an unusual year as well. We've been pushed and pulled, kicked around, given the green light only for it to turn red again when we turn around.
In many ways, 2021 was a tougher year than 2020 because, in 2020, we didn't have any context for what was about to unfold. Thankfully, despite external circumstances feeling crazy, we can turn to each other for inspiration, insight, and comfort.
In today's end-of-the-year retrospective, I've assembled highlights from the conversations I had here at PYP beginning in January all the way to December. Topics we explored within the larger context of answering the call to leadership include:
Uncertainty and change
Moving forward anyway
Investing in yourself is the best use of time and resources
Answering the call to leadership is worthwhile
Pay attention to money no matter how good or bad the economy is doing
Know what you want and decide accordingly
Making friends with technology will serve you well
Take care of yourself—your mind, your body, your dreams, and your goals
Here are the links to listen to each guest's full episode. Powerful, uplifting, life-changing!
Peter Docker on Leading from the Jumpseat
Brian Kight on the Physics of Leadership
Angus Nelson on Letting Your Greatness Guide You
Ken Kladouris on Success through Stillness
Meghan Lynch on Retaining Talent, Building Culture, and Growing a Business in the Age of Uncertainty
Jonathan Baktari on Post-Pandemic Work and Life
Calvin Brown on Finding Gold in the Hidden App Market
Rich Kasparian on Investing for a Happy Retirement
Jessica Fialkovich on How to Know What Your Business Is Worth
Dr. Roger Hall on How to Be Happier and More Successful
Erin Fults on Making the Most of the Seasons of Your Business and Life
John Vuong on Why SEO Still Matters
Nedra Rezinas on Taking Purposeful Action with Your Online Marketing
Curtis May on the Velocity of Money
Janice Lintz on Making the World More Accessible for People with Hearing Loss
Jonathon Hensley on Leading through Digital Transformation
Tracy Goodwin on the Psychology of the Voice
Neville Billimoria on Leading from Where You Stand
Chuck Cooper on Creating People-Centered Cultures
Amanda Clements on Getting Your Head Back in the Game
Mary Mosham on Ending Stress and Burnout
Kimberly Crowe on Getting on Stages to Grow Your Revenue and Reach
Jenna Cooper on Owning and Communicating Your Authentic Story
Nadav Zeimer on Education in the Digital Age
Adi Klevit on Getting Your Systems Aligned for Business Success
Trey Taylor on Why a CEO Only Does Three Things
John Johnson on the Impact of Everyday Data on Leadership and Decision-Making
Sam Groff on Creating A Highly Successful Online Course
Michele Ashby on Why Getting More Women on Corporate Boards Makes for Great Business
Chad Austin on Making Fitness a Priority Susan James on Turning Your Vision into Your Reality
Susan James on Turning Your Vision into Your Reality
Jim McCarthy on the Almost Probable Certain Future of Live Entertainment
Michael Roderick on Why We Are All the "BBC Dad" Now
Wayne Mullins on Where Trust Goes, the Money Flows
Judd Armstrong on Why You Must Go After Your Dreams
Thanks for Supporting the Podcast!
The Team here at PYP has put together another uplifting, insightful, and inspiring show for you today. Our goal is to bring you timely, relevant, and useful conversations so that you can experience more success, energy, and LIFE as the leader of your business, career, side hustle, or passion.
If you haven't already been incredibly generous and awesome, now's your chance when you leave us a 5-star review!
Here are a few ways I can help you:

Share this episode with one person who could use a boost of inspiration and positivity today.
Grab your copy of my leadership playbook that teaches you the 11 skills you can quickly master to become an exceptional leader.
Buy one of my books on Amazon and leave me a 5-star review.
How's your writing these days? Is what you write and say more "ho-hum" than "oh ya!" Let's work on making your writing work better for you.  Book a free call with me today!