Angus Nelson on Letting Your Greatness Guide You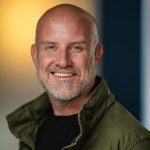 Angus Nelson is a man on a mission: to help ambitious men find a life of meaning and purpose, free from the constraints of limitations imposed by others or self. In a nutshell, he helps men create lives they've always wanted.
As an entrepreneur, Angus endured the pain of burnout, addiction, and divorce as the gut-wrenching consequences of neglect in his own mental health, self-awareness, and humility. Angus is the Founder of Evolve Men Coaching and is one of America's top men's performance strategists. He's spent the last decade working with high-achieving leaders using his signature alignment tool, The Manhood Matrix™, to discover what ignites men at their core.
He's spoken for global brands like Walmart, Coca-Cola, BMW, and Disney and will host the upcoming Evolve Men Podcast.
Angus is ecstatically married with three children living in Nashville, Tennessee. He loves all things human behavior, Green Bay Packers, and BBQ nachos.
Links and Resources from Angus Nelson
Get to know more about Angus Nelson on his website
Thanks for Supporting the Podcast!
The Team here at PYP has put together another uplifting, insightful, and inspiring show for you today. Our goal is to bring you timely, relevant, and useful conversations so that you can experience more success, energy, and LIFE as the leader of your business, career, side hustle, or passion.
If you haven't already been incredibly generous and awesome, now's your chance when you leave us a 5-star review!
Here are a few ways I can help you: