Brian Kight on the Physics of Leadership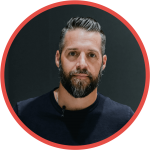 Brian Kight believes "There's nothing more inconsistent going on day to day week to week than what's going on inside someone's heart. The number one skill a coach can have is to move someone in that way."
Our conversation is centered around core leadership principles Brian uses in his coaching work. He doesn't know your goals, but he knows how you can get there faster—discipline.
Discipline is the shortcut, and he's sharing this shortcut every day with his 32,000+ Daily Discipline subscribers. Daily Discipline is a free daily email with a central mission to help people build the discipline they need to accomplish what they want, as fast and reliably as possible.
Brian has worked with some of the most notable businesses and sports teams in implementing his simple systems for training leaders, building culture, and creating winning behavior. Whether it's delivering world-class keynotes or advising an organization's leaders, Brian is making a difference for those ready to do the work. Brian's competitive mindset grew from the influence of playing football to becoming an entrepreneur. He sits on the board of the Charlotte, NC chapter of Entrepreneurs' Organization (EO) where he advises other entrepreneurs and small business owners on how to compete and win.
Links and Resources from Brian Kight
Get to know more about Brian Kight on his website
Thanks for Supporting the Podcast!
The Team here at PYP has put together another uplifting, insightful, and inspiring show for you today. Our goal is to bring you timely, relevant, and useful conversations so that you can experience more success, energy, and LIFE as the leader of your business, career, side hustle, or passion.
If you haven't already been incredibly generous and awesome, now's your chance when you leave us a 5-star review!
Here are a few ways I can help you: