44: Why Getting Mugged and Stabbed in the Leg Was the Best Thing for Travis Steffen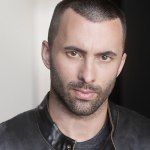 Listen to the episode (0:45:58)
Kick Off!
A self-proclaimed paradoxical cross between an annoyingly-alpha meathead and an uber-nerd Mensa member, Travis Steffen is a former pro MMA fighter, former pro poker player turned self-taught tech entrepreneur and growth hacker who has started and sold six companies in the past six years. He currently runs Upshare.co, one of the market leaders in viral marketing tools.
Mentored by both Andrea Lake and Dan Caldwell, Travis attributes his phenomenal business success to a combination of hard work, good timing, and old fashioned stubbornness.
Move the Chains
"The things that scare you are sometimes the things most worth doing."
One phone call to a successful businesswoman changed the entire course of Travis's business and life, proving that sometimes all it takes to move the chains is having the courage to ask — even when you're terrified.
Touchdown!
You wouldn't expect getting mugged and stabbed to be the catalyst for changing the entire course of your life, but Travis Steffen tells the story of when this happened to him…and how it fueled the decision for him to use every day as the most precious commodity and to focus on mastering productivity and getting serious about business.
Interview Links
Like the show? Click the purple icon to subscribe in iTunes and leave me a review, which will help others find this inspirational content. Thank you for listening!