43: Dan Caldwell Gets into the End Zone by Asking Hard Questions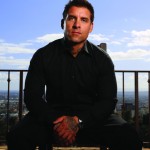 Kick Off!
Dan Caldwell is the Co-Founder and President of TapouT, a brand he started in 1997 when he and a partner put what little money they had together to form the apparel company whose revenues are now in the hundreds of Millions!
Dan has been featured on CNN, FOX Business, Forbes, The Wall Street Journal, and even a character in a video game. He has been acting and producing movies, having worked on Lionsgate's "Warrior", among others, as well as the TapouT TV Series, which aired on Versus (Now NBC Sports). As a youth growing up in a poor neighborhood in San Bernardino, California, Dan was disturbed that he had no real mentors to look up to. Because of this it has become both his mission, and his passion, to make an impact on students' lives.
Move the Chains
Creating a multi-million dollar global brand doesn't come without its share of major challenges. When an investor pulled out of the deal at the last minute that would have allowed Dan and his partner to take the next step with growing TapouT, Dan wasn't sure the company was going to survive. He says, "What most people don't understand about building a business is — growth can cripple you."
Touchdown!
Despite their website crashing in 2006 during a rush of orders after airing on a popular television show, Dan and his team were able to salvage their biggest sale and take TapouT to the next level of becoming the globally recognized brand it is today.
Interview Links
Dan's Book Recommendation
Like the show? Click the purple icon to subscribe in iTunes and leave me a review, which will help others find this inspirational content. Thank you for listening!