Andy Buyting on Getting the Most out of Your Content Marketing Efforts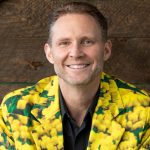 Andy Buyting is the founder of Tulip Media Group. He is a leader in thought leadership and content marketing. His "integrated content" strategy has served both himself and his clients exceedingly well. You might recognize his name from being a part of the 3 CEOs troop who were on the show earlier this spring.
Andy has delivered countless keynote presentations and workshops to entrepreneurs, business leaders and marketers all over North America. His audiences leave his keynote addresses with a better understanding of their true brand and the value they hold in the eye of their customers. They also leave with easy to execute content marketing strategies that can be immediately integrated into their marketing.
Links and Resources from Andy Buyting
Discover new ways to grow your business with Andy Buyting and Tulip Media Group!
Thanks for Supporting the Podcast!
The Team here at PYP has put together another uplifting, insightful, and inspiring show for you today. Our goal is to bring you timely, relevant, and useful conversations so that you can experience more success, energy, and LIFE as the leader of your business, career, side hustle, or passion.
If you haven't already been incredibly generous and awesome, now's your chance when you leave us a review and make sure to subscribe to the show wherever you listen to podcasts!
Here are a few ways I can help you: