3 CEOs Share Business Lessons from the Edge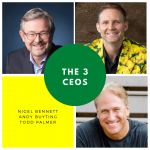 Meet the 3 CEOs who have overcome every obstacle. These adventurers, entrepreneurs, and philanthropists have much to teach us about responsibility, success, and the bravery that surfaces in moments when everything is on the line.
Who are the 3 CEOs? Nigel Bennett, Founder of AquaGuard, Andy Buyting, Founder of Tulip Media Group, and Todd Palmer, INC 5000 CEO & President 6x. They have joined forces to share a message of hope and optimism as we reimagine our options in a post-pandemic world.
There's no doubt that these are scary times! COVID-19 is changing everything around us, from the way we live our lives to the way we run our businesses. And it's clear that the COVID-19 pandemic is going to change some things permanently.
Consider this – How is the current pandemic going to change:
Your industry?
Your business?
Your community?
Your family?
You?
Having gone through several recessions and challenges, the 3CEOs will leverage and share their past experiences, ideas, and resources to help you survive, and even thrive, through the COVID-19 disaster.
You will walk away from today's conversation with thought-provoking ideas that you can implement right away in your business and in your life to give you hope and optimism about our post-COVID-19 world!
The Changing World: Post COVID-19 – Promo from Tulip Media Group on Vimeo.
Links & Resources
To request and book the 3CEOs, please email Jessica at TulipMediaGroup dot com
Thanks for listening!
The Team here at PYP has put together another uplifting, insightful, and inspiring show for you today. Our goal is to bring you timely, relevant, and useful conversations so that you can experience more success, energy, and LIFE as the leader of your business, career, side hustle, or passion.
If you haven't already been incredibly generous and awesome, now's your chance when you leave us a review and make sure to subscribe to the show wherever you listen to podcasts!
Here are a few ways I can help you: