4: Mark Donham Gets Back in Position as Radioman Rides the World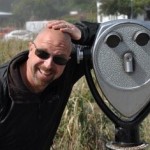 Listen to the episode (0:22:36)
Kick Off!
One thing Mark Donham is sure about: life doesn't always go according to plan.
When his wife unexpectedly developed early onset Alzheimer's, Mark left his 6-figure a year job and took on the new position as her full-time caretaker. This experience would turn out to be the catalyst for the next chapter in Mark's life — a 2 1/2 year trip alone around the world on his motorcycle.
It was on this trip when he acquired the nickname "Radioman Rides the World" — and he has never looked back.
Move the Chains
Fueled by three words — Faith, Hope, and Courage — Mark exemplifies what it means to be human, especially when faced with life-changing loss. Rather than let his wife's passing deflate him, however, Mark carried on with more passion and purpose than before. Seeing the world from a motorcycle allowed him time to reflect and has given Mark a unique perspective on what really matters most in life: our relationships, our integrity, our dignity.
Touchdown!
The biggest touchdown of Mark's life was when he made the decision to leave his career to take care of his wife full time. Out of that experience came his belief that we can all reach out in kindness and help more people by paying it forward.
Interview Links
If you enjoyed the show, I would really appreciate your review in iTunes!