Jonathan Goldhill On Helping Leaders Hire Right and Scale Up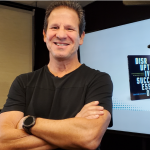 Jonathan Goldhill is a masterful business coach and personal strategist specializing in guiding next-generation leaders of family businesses to scale up their business as they take control over the leadership and ownership of the family business.
Jonathan Goldhill left New York for California at age 20 after his family's large, privately-held men's apparel manufacturing company—started by his great-grandfather—sold to a conglomerate in its third generation of family ownership. Within ten years, Jonathan had established himself as the go-to expert for entrepreneurs looking to find their freedom. Today, Jonathan brings thirty years of experience advising, coaching, consulting, training, and guiding entrepreneurial and family businesses to grow their revenues, profits, and people's leadership.
Visit Jonathan's website
Connect with Jonathan on LinkedIn
Get Jonathan's book, Disruptive Successor
Thanks for Supporting the Podcast!
The Team here at PYP has put together another uplifting, insightful, and inspiring show for you today. Our goal is to bring you timely, relevant, and useful conversations so that you can experience more success, energy, and LIFE as the leader of your business, career, side hustle, or passion.
If you haven't already been incredibly generous and awesome, now's your chance when you leave us a 5-star review!
Here are a few ways I can help you:

Share this episode with one person who could use a boost of inspiration and positivity today.
Grab your copy of my leadership playbook that teaches you the 11 skills you can quickly master to become an exceptional leader.
Buy one of my books on Amazon and leave me a 5-star review.
How's your writing these days? Is what you write and say more "ho-hum" than "oh ya!" Let's work on making your writing work better for you.  Book a free call with me today!