30: Creating a Killer Offense One Song at a Time — with Emily Duff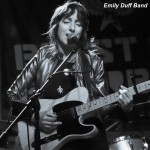 Listen to the episode (0:33:12)
Kick Off!
Emily Duff is a singer songwriter who has been writing and playing music for a good long time. At age four, she recognized the music impulse within herself and quickly showed promise on the guitar after her mother introduced her to four basic chords. When she was 17 years old, she started playing music in New York City and hasn't slowed down since. She sings all her own songs and is currently focusing on writing for other artists.
Mother of two children, Emily makes her home in an apartment in the West Village of downtown Manhattan where she's lived for more than 25 years.
Move the Chains
As all artists know all too well, becoming a parent shifts the focus from art to family, at least for a little while. Emily experienced this shift first hand when she had her children and describes how taking a back seat to the procreative process didn't thwart her artistic inclinations but has actually helped her music become more accessible to audiences than ever before.
Touchdown!
Emily's game winning touchdown came when she got the ear of someone who had the influence to get her a gig in a venue she'd had on her wish list. Running into him unexpectedly while on her way to the park with her kids, Emily says she went against her policy of mixing business with pleasure and approached him about helping her with her music. Turns out that was the play that won the game. She got the gig and as a result, has enjoyed greater reach and influence on the music scene.
Interview Links
If you enjoyed the show, be sure to subscribe in iTunes and leave me a review! Thank you!