37: Self-Discipline & Living Life on Purpose — with Chris Yonker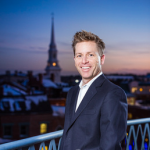 Listen to the episode (0:30:35)
Kick Off!
Chris Yonker is a lifelong student of human potential who embraces a uniquely collaborative approach to professional and personal development; one that encompasses the principles of leadership, classical sales training, and neuro-linguistic programming (NLP). He works with senior executives, entrepreneurs and highly motivated salespeople who aspire to top levels of performance and achievement. His gift is in helping people define their improvement initiatives, set realistic goals for executing them, and align their natural abilities with their core values to create extraordinary outcomes, both in business and in life.
Chris has honed a proprietary process that instills confidence in his clients, whether they are on a new path in business, or just hitting their stride. He is a highly sought-after speaker and workshop facilitator whose programs are engineered to meet the demands and exceed the expectations of high-end achievers. An accomplished martial artist and practitioner of yoga, Chris extracts valuable business lessons through Sanchin-Ryu karate—in which he holds a 7th degree black belt—and Ashtanga yoga philosophy.
Move the Chains
There was a time when Chris's wife was working for a major company, but the work wasn't aligned with her truth. Despite having no road map about how any of it was going to work, Chris committed to making a full time income on the side in order to support his wife's dream of leaving corporate American to pursue her yoga business.
Chris believes that once we make a decision and have faith in what's coming next, doors will open for us even when they don't seem obvious at first.
Touchdown!
Once Chris got through the tough work of pinpointing what would make him happy in his business, the defensive line that had been blocking his path opened right up and allowed him to run seamlessly into the end zone. Since then, he has never looked back. These days, Chris helps high level executives and top achievers do the very same thing — putting plenty of points in the record books on the way to accomplishing what matters most to them.
Interview Links
Like the show? Click the purple icon to subscribe in iTunes and leave me a review, which will help others can find this inspirational content. Thank you for listening!