Wayne Mullins on Why Your Website Doesn't Have to Be Pretty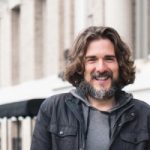 Think you have to have a beautiful website to do well online?
Think again.
Today's guest Wayne Mullins, Founder of Ugly Mug Marketing, shares why what your website looks like has little to do with overall performance. Wayne and I have a fantastic conversation about what today's businesses need to consider when building an online presence. You'll walk away with new ideas and insights for your own website and digital marketing strategy, that's for sure!
About Wayne Mullins
Wayne Mullins is the Founder of Ugly Mug Marketing, and a highly sought- after marketing consultant, regularly having to turn clients away. He directly influences more than one hundred thousand entrepreneurs annually via his blog, books, and training programs. While making his clients more profitable is an easy motivator, Wayne is also driven by creating value for his clients beyond just the dollars and cents. He is passionate about building a team that isn't focused on checking off items on to-do lists and completing projects, but instead, on getting results for their clients.
Links & Resources
Connect with Wayne Mullins on his website here.
Thanks for listening!
The Team here at PYP has put together another uplifting, insightful, and inspiring show for you today. Our goal is to bring you timely, relevant, and useful conversations so that you can experience more success, energy, and LIFE as the leader of your business, career, side hustle, or passion.
If you haven't already been incredibly generous and awesome, now's your chance when you leave us a review and make sure to subscribe to the show wherever you listen to podcasts!
Here are a few ways I can help you: