Wayne Herring on Tapping into Your Next Adventure for Personal and Professional Growth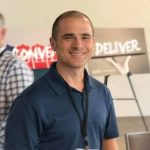 As the founder of Business Builder Camp, Wayne Herring has helped men across the country grow their businesses into successful and thriving enterprises. However, there is so much more to his story than simply "coach" or "consultant." Wayne has worked as a specialty drilling and blasting contractor and an organic farmer. He has run ultra marathons, gone on epic road trips, and is a 1997 Montana state arm wrestling champion. He loves to hunt and farm, but he also enjoys yoga and meditation. Some have described Wayne as a renaissance man, but he thinks that is a strange term for the son of a coal miner.
Highlights from our conversation:
• How to make the vision in your head a reality
• Living a fulfilling life of adventure, family, and satisfaction as you grow your business
• Working to be a good dad and husband while growing your business
• Why we need people to help part the "curtains" in life
• Mentors in Wayne's life and the value of having them in yours
• Camp / Rendezvous – reasons to gather with other sharp high performers
• What got you here won't get you there… a trap for high performing business builders
Links and Resources
Take advantage of Wayne's generous offer here on his website, exclusively for Team PYP!
Thanks for Supporting the Podcast!
The Team here at PYP has put together another uplifting, insightful, and inspiring show for you today. Our goal is to bring you timely, relevant, and useful conversations so that you can experience more success, energy, and LIFE as the leader of your business, career, side hustle, or passion.
If you haven't already been incredibly generous and awesome, now's your chance when you leave us a review and make sure to subscribe to the show wherever you listen to podcasts!
Here are a few ways I can help you: