Tim Leonard on Leveling the Playing Field for All College Athletes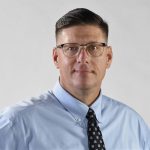 In today's episode, Tim Leonard takes us inside the world of college athletics. As a leader in the industry, Tim is passionate about student-athletes and how playing sports is where many young people learn critical leadership skills along with other important lessons for living a successful life. We spoke a couple of months into the COVID-19 situation when the fall season of college sports was still up in the air. Like most leaders, Tim exudes an optimistic attitude about the future of college sports despite the current challenges colleges and universities face. His point of view is inspirational and exemplifies what it means to show up as a leader in a complex world.
About Tim Leonard
Tim Leonard is in his seventh year as the Director of Athletics at Towson University in Maryland. Tim joined the Towson staff in the fall of 2013 after serving as the senior associate athletics director for external affairs at Southern Methodist University (SMU). Since coming to Towson, he has overseen continued success both on the field and in the classroom. Some of the successes his leadership has contributed to include conference titles in women's basketball and men's lacrosse plus the first NCAA FCS Playoff berth for football since 2013. Many athletes are excelling in the classroom as well, finding their names on the Dean's List. Tim earned his bachelor's degree in communications from Boise State. The Twin Falls, Idaho native and his wife, Monica, have two children, Hayley and Nathan.
Links and Resources
Learn more about Tim Leonard and Towson University here
Connect with Tim on LinkedIn here
Elevate Your Expertise
***FALL REGISTRATION IS NOW OPEN***
Learn why sharing what you know with a bigger audience can be one of the best decisions you'll ever make … even if you have no idea where to start! Find out more about this exciting program today!
The Team here at PYP has put together another uplifting, insightful, and inspiring show for you today. Our goal is to bring you timely, relevant, and useful conversations so that you can experience more success, energy, and LIFE as the leader of your business, career, side hustle, or passion.
If you haven't already been incredibly generous and awesome, now's your chance when you leave us a review and make sure to subscribe to the show wherever you listen to podcasts!
Here are a few ways I can help you: