Sam Groff on Creating A Highly Successful Online Course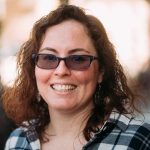 Sam Groff helps transition your traditional in-person training, consulting, and coaching to the online course world.
She has a no BS approach to getting you and your clients the results you want. By taking you back to your beginner mindset, she shows you how to easily transform your brilliant ideas and talents into a course your clients will rave about.
Sam is able to do all of this with her clients because she taught high school for 11 1/2 years where kids were brutally honest about whether the content was palatable or not. From the classroom, she dove headfirst into corporate and freelance instructional design.
Now she pulls all of that knowledge together to help entrepreneurs design online courses that actually teach what they promise in their marketing.
Links and Resources from Sam Groff
Grab Sam's guide, 7 Steps to Create a Highly Successful Online Course
Thanks for Supporting the Podcast!
The Team here at PYP has put together another uplifting, insightful, and inspiring show for you today. Our goal is to bring you timely, relevant, and useful conversations so that you can experience more success, energy, and LIFE as the leader of your business, career, side hustle, or passion.
If you haven't already been incredibly generous and awesome, now's your chance when you leave us a review and make sure to subscribe to the show wherever you listen to podcasts!
Here are a few ways I can help you: