Richard Lau on the Intersection of Artificial Intelligence and Leadership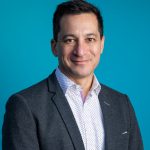 Richard Lau, founder of Logo.com, has an impressive track record of building successful businesses. He has founded, built, and sold multiple companies including MyDomain.com, Resume.com, and NamesCon. Along with success on the business side, he has a heart for giving back to others and is Executive Director of WaterSchool, a charity focused on clean water projects in Uganda.
2020 is Richard's 20th year as a cancer survivor. He was diagnosed with colon cancer at age 30 after just moving to a new country with his wife & 3-month old son. His faith in God carried him through this trying time for himself and his family and gave him even more drive to help others through business.
His current project is Logo.com – an AI-powered logo maker that has the ability to design a unique logo for your company in just a few minutes. He's also hitting the podcast circuit as a means of helping others get more out of their ventures and lives.
Links and Resources
Learn more about Richard Lau:
Lau.com
Logo.com
LinkedIn
Recommended Book: The E-Myth Revisited by Michael Gerber
Thanks for Supporting the Podcast!
The Team here at PYP has put together another uplifting, insightful, and inspiring show for you today. Our goal is to bring you timely, relevant, and useful conversations so that you can experience more success, energy, and LIFE as the leader of your business, career, side hustle, or passion.
If you haven't already been incredibly generous and awesome, now's your chance when you leave us a review and make sure to subscribe to the show wherever you listen to podcasts!
Here are a few ways I can help you: