Paul Huszar on Creating Leadership Opportunities for Veterans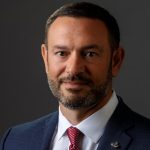 Today's guest, Paul Huszar, talks about why veterans are exceptional leaders in civilian life, with several stories that showcase this reality.
"If you value respect, showing up on time, and getting the job done right, you'll be hard-pressed to find anyone better than a veteran," he says.
This is one of the many reasons Paul founded his company, VetCor. He is the CEO of VetCor and Team VetCor, and a retired Army officer. Paul graduated from West Point and then served 23 years on active duty, including four combat tours in Iraq. He commanded a 1,000 Soldier and Airman Joint Task Force in 09-10 and last served as the Dean of the Army's Engineer School. He retired and moved to Tampa in 2013 when he started VetCor and started franchising the concept in 2019. His passion is creating sustainable and meaningful employment opportunities, and now business ownership opportunities, for our Nation's Heroes.
Connect with Paul Huszar and learn more about the VetCor opportunity on his website here
Get the book Tribe: On Homecoming and Belonging by Sebastian Junger here
Thanks for Supporting the Podcast!
The Team here at PYP has put together another uplifting, insightful, and inspiring show for you today. Our goal is to bring you timely, relevant, and useful conversations so that you can experience more success, energy, and LIFE as the leader of your business, career, side hustle, or passion.
If you haven't already been incredibly generous and awesome, now's your chance when you leave us a 5-star review!
Here are a few ways I can help you:

Share this episode with one person who could use a boost of inspiration and positivity today.
Grab your copy of my leadership playbook that teaches you the 11 skills you can quickly master to become an exceptional leader.
Buy one of my books on Amazon and leave me a 5-star review.
How's your writing these days? Is what you write and say more "ho-hum" than "oh ya!" Let's work on making your writing work better for you.  Book a free call with me today!