Orshie Herbein on How to Rethink Your Marketing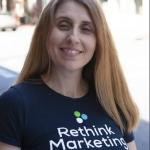 Orshie Herbein, a partner at Brand3, knows if you don't have a clear message and image, you could be wasting as much as 80% of your marketing budget. In our lively conversation, Orshie offers some actionable ways to help business owners rethink marketing and to stop wasting time and money and accelerate business growth. She also knows how to spin metaphors in a wonderful way.
With her unique perspective as a visual problem solver, Orshie is a great resource for business owners who want to get more out of their marketing, as well as a brilliant asset to have on any team.
Enjoy 🙂
Connect with Orshie on her website and LinkedIn
Recommended books:
The Infinite Game by Simon Sinek
Building a StoryBrand by Donald Miller
Thanks for Supporting the Podcast!
The Team here at PYP has put together another uplifting, insightful, and inspiring show for you today. Our goal is to bring you timely, relevant, and useful conversations so that you can experience more success, energy, and LIFE as the leader of your business, career, side hustle, or passion.
If you haven't already been incredibly generous and awesome, now's your chance when you leave us a 5-star review!
Here are a few ways I can help you:

Share this episode with one person who could use a boost of inspiration and positivity today.
Grab your copy of my leadership playbook that teaches you the 11 skills you can quickly master to become an exceptional leader.
Buy one of my books on Amazon and leave me a 5-star review.
How's your writing these days? Is what you write and say more "ho-hum" than "oh ya!" Let's work on making your writing work better for you.  Book a free call with me today!