53: Either Evolve or Evaporate — with Nick Onken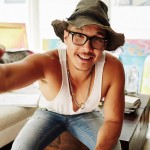 Listen to the episode (0:27:44)
Kick Off!
Nick Onken is a photographer, podcast host, and creative entrepreneur. A former graphic designer hailing from the soggy city of Seattle, he now resides in the concrete jungle of New York. Nick has photographed personalities such as Justin Bieber, Usher, and Jessica Alba as well as print campaigns for brands such as Nike, Coca Cola and Adidas. On his podcast, he's interviewed celebrities such as Usher and Scooter Braun and he photographs for the charity Pencils of Promise because he believes education is the root problem solver of our world.
Move the Chains
When Nick Onken had the chance to work in Africa with a non-profit, he took it. "It changed everything," he recalls. "When you experience the developing world for the first time, you can't help but move the chains of your career and personal life."
Touchdown!
Lewis Howes introduced Nick Onken to a course in emotional intelligence and leadership. His big win came when he realized the difference between himself as a person and his artistic vision.
"The two are not the same," Nick says. "Separating them has made a huge difference in how I approach my work."
Interview Links
Like the show? Click the purple icon to subscribe in iTunes and leave me a review, which will help others find this inspirational content. Thank you for listening!