Michael Roderick on Why We Are All the "BBC Dad" Now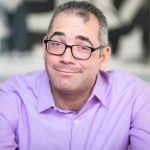 The entire world laughed when we saw the now infamous "BBC Dad" video back in 2017, a portent of what was to become reality for millions in 2020. That video is now a symbol of our new normal and a testament to how leadership is being reimagined, redefined, and reinvented every day.
Today's guest is no stranger to reinvention. When Michael Roderick went from high school teacher to Broadway producer in under two years people started to ask him how he managed it. Michael began his career as a high school English teacher before producing Off-Broadway and then on Broadway. This combination of experience in the arts and entrepreneurship led to Michael starting an arts incubator program to teach more artists about building and growing their own businesses (PLAE). Eventually, he decided to develop a workshop on networking which grew into a full-time consulting practice and that became Small Pond Enterprises.
Michael took a short break to work as the V.P. of Operations and as a Director of Business Development for an NYC Ed. Tech Startup which introduced him to the New York Startup community. Most recently, Michael founded The Connecting Connectors Conference (ConnectorCon).
Links and Resources from Michael Roderick
Michael's Website
Grab a drink with Michael on LinkedIn
Thanks for Supporting the Podcast!
The Team here at PYP has put together another uplifting, insightful, and inspiring show for you today. Our goal is to bring you timely, relevant, and useful conversations so that you can experience more success, energy, and LIFE as the leader of your business, career, side hustle, or passion.
If you haven't already been incredibly generous and awesome, now's your chance when you leave us a review and make sure to subscribe to the show wherever you listen to podcasts!
Here are a few ways I can help you: