51: Transforming the Internet Experience from Everyday to Extraordinary — with Micha Mikailian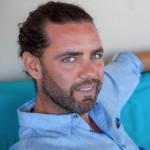 Listen to the episode (0:29:29)
Kick Off!
Micha Mikailian has been a serial entrepreneur for the last 22 years, with 8 companies under his belt. He most recently Co-Founded Intently, a software platform that leverages virtual real estate to transform people's experiences with technology. It is a vision boarding application that deeply connects its users with their goals and intentions by replacing advertisements with pictures from their vision board. Micha's specialties include business start-up formation and funding, venture capital, entrepreneurship, web based businesses, digital marketing, and leadership.
Move the Chains
Micha Mikalian had the good fortune of becoming a millionaire by the time he was 20 years old. While this achievement may seem as if it would prevent him from challenges, the exact opposite is true. When he was 24, Micha became disillusioned, turning inward and shutting out the world around him. "I wasn't sure which direction to go next," he confesses. "You'd think I'd have it all figured out, but I didn't."
Touchdown!
One of Micha's biggest business wins came when he and his team were short on cash and barely hanging on. After grinding things out for more than two years in the startup, Micha pulled his team together and created a pitch for a 6-figure proposal — and landed the biggest contract they'd seen to date. That contract tipped Micha Mikailian and his business over the edge into their next growth phase, and he never looked back.
Interview Links
Like the show? Click the purple icon to subscribe in iTunes and leave me a review, which will help others find this inspirational content. Thank you for listening!