Meghan Lynch on Retaining Talent, Building Culture, and Growing a Business in the Age of Uncertainty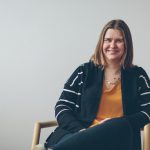 Meghan Lynch is the CEO of Six-Point Creative, a brand strategy agency that helps "second-stage" companies break through growth plateaus. As part of her mission to help small businesses challenge the goliaths, Meghan has served as an expert advisor to second-stage clients in a wide range of industries, from fast-casual restaurants to industrial manufacturers. Meghan was named an Enterprising Woman of the Year in 2019 and enjoys testing her limits as an endurance runner.
In today's episode, Meghan and I talk about how small businesses can succeed in an age of uncertainty; why she changed her mind about what is required to build a strong company culture; and the advantages of running a one hundred percent virtual team.
Links and Resources from Meghan Lynch
Connect with Meghan on her website here
Become a better writer. Get friendly, encouraging feedback on your ideas. Join me for THE WRITE TO GROW™ COLLECTIVE 2021 **Register Today**
Thanks for Supporting the Podcast!
The Team here at PYP has put together another uplifting, insightful, and inspiring show for you today. Our goal is to bring you timely, relevant, and useful conversations so that you can experience more success, energy, and LIFE as the leader of your business, career, side hustle, or passion.
If you haven't already been incredibly generous and awesome, now's your chance when you leave us a 5-star review!
Here are a few ways I can help you: