Mary Mosham on Ending Stress and Burnout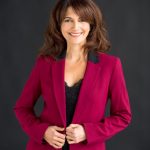 Mary Mosham is an award-winning leadership coach, mindfulness teacher, and author. She specializes in leadership, team, and personal development, yoga and meditation, and corporate mindfulness.
With over 20 years' experience in corporate change consulting and management at Cisco and Fortune 100 companies, she pioneered innovative people development solutions and led global change efforts that enhanced organization, leadership, and team performance.
Mary earned a master's degree in organization development from Pepperdine University and ICF professional coach certifications from New Ventures West and Marcus Buckingham Company. She has received numerous awards, including Cisco's Coach of Excellence award. She is a certified facilitator in leading-edge programs and assessments, including Potential Project's corporate mindfulness programs, Leadership Circle Profile™, Hogan, StandOut, Emotional Intelligence (EQ-i®), and Enneagram.
She is the author of Mindful Career: Seven Keys to End Burnout and Unlock Your Greatest Potential. Away from work, she is passionate about traveling, hiking, healthy living, sponsoring the Tibetan Children Foundation, and creating a more sustainable world.
Links and Resources from Mary Mosham
Find your true north with a visit with Mary Mosham on her website
Get a copy of Mary's book
Thanks for Supporting the Podcast!
The Team here at PYP has put together another uplifting, insightful, and inspiring show for you today. Our goal is to bring you timely, relevant, and useful conversations so that you can experience more success, energy, and LIFE as the leader of your business, career, side hustle, or passion.
If you haven't already been incredibly generous and awesome, now's your chance when you leave us a review and make sure to subscribe to the show wherever you listen to podcasts!
Here are a few ways I can help you: