Kimberly Crowe on Getting on Stages to Grow Your Revenue and Reach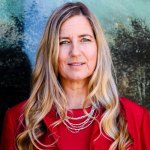 As a Master Connector, Kimberly Crowe gets entrepreneurs the stages and connections they need to stop being overlooked, and massively grow their revenue and reach. Kimberly is an award-winning international inspirational public speaker, best-selling author, audiobook producer, and six-time entrepreneur.
Kimberly is the founder of Entrepreneurs Rocket Fuel, an active community of Entrepreneurs, looking to contribute, connect, and grow with other entrepreneurs.
Kimberly is also the mother of two and an adventure seeker, who has hiked sections of the Pacific Crest Trail, navigated Class IV rapids with one of Costa Rica's female Olympic medal-winning whitewater champions, sailed down the coast of Mexico on a 42-foot sailboat, and traversed 200 miles on horseback through Canada's Jasper National Park. Her specialty is turning dreams into reality.
Links and Resources from Kimberly Crowe
Learn more about Kimberly Crowe on her website here.
Thanks for Supporting the Podcast!
The Team here at PYP has put together another uplifting, insightful, and inspiring show for you today. Our goal is to bring you timely, relevant, and useful conversations so that you can experience more success, energy, and LIFE as the leader of your business, career, side hustle, or passion.
If you haven't already been incredibly generous and awesome, now's your chance when you leave us a review and make sure to subscribe to the show wherever you listen to podcasts!
Here are a few ways I can help you: