Jonathan Baktari on Post-Pandemic Work and Life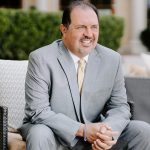 When Jonathan Baktari was arguably at the peak of his medical career as a triple board-certified physician, he saw an opportunity to try something new. Taking everything he'd learned as a doctor, medical director, and educator, he launched two businesses—a vaccine clinic and a drug-testing enterprise—that are driven by technology and designed for fast, customer-centric service. Now, as those businesses grow, he's continuing to write his second career chapter as a health care CEO.
Dr. Baktari's company e7 Health was named the best technology company in the healthcare space in 2019. e7 Health could best be described as "the Uber of preventive medicine" in that it is a systems company that has invested heavily in developing their own electronic cloud-based software to leverage technology for the benefit of their operation, patients, and clients.
In addition to vaccines, antibody testing, and many other medical services essential to employers around the country, e7 is now providing at-home COVID-19 tests for individuals and companies all over the US. Dr. Baktari has always believed that helping others was the ultimate achievement in life. Now, as a business leader and sought-after speaker, he's excited to share his expertise in tech entrepreneurship, COVID-19, preventative health, and many other topics with Team PYP.
Links and Resources from Jonathan Baktari
Jonathan Baktari's website
e7 Health website
Ready to do something bigger with your ideas? Tired of "junk thinking" tarnishing your industry's reputation and clogging up your social feeds? Join me for THE WRITE TO GROW™ COLLECTIVE 2021 **Register Today**
Thanks for Supporting the Podcast!
The Team here at PYP has put together another uplifting, insightful, and inspiring show for you today. Our goal is to bring you timely, relevant, and useful conversations so that you can experience more success, energy, and LIFE as the leader of your business, career, side hustle, or passion.
If you haven't already been incredibly generous and awesome, now's your chance when you leave us a 5-star review!
Here are a few ways I can help you: