John Johnson on the Impact of Everyday Data on Leadership and Decision-Making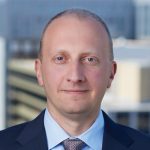 John H. Johnson, Ph.D. is president and CEO of Edgeworth Economics, a professional economist, expert witness, internationally renowned speaker, and author of EVERYDATA: The Misinformation Hidden in the Little Data You Consume Everyday.
Dr. Johnson has helped some of the world's largest companies understand how to interpret data and is known internationally for his ability to explain highly sophisticated concepts in a simple, straightforward manner, helping his audiences become more confident and discerning consumers of data and make better decisions in their professional and personal lives.
Dr. Johnson received a Ph.D. in Economics from the Massachusetts Institute of Technology and his BA in Economics with Highest Distinction from the University of Rochester. He lives with his wife and two children in McLean, Virginia.
Links and Resources from John Johnson
Get a copy of John Johnson's book EVERYDAY DATA here
"This book will make you smarter, faster. Please read it before making decisions or forming opinions of any kind." — Seth Godin, author of Linchpin
Thanks for Supporting the Podcast!
The Team here at PYP has put together another uplifting, insightful, and inspiring show for you today. Our goal is to bring you timely, relevant, and useful conversations so that you can experience more success, energy, and LIFE as the leader of your business, career, side hustle, or passion.
If you haven't already been incredibly generous and awesome, now's your chance when you leave us a review and make sure to subscribe to the show wherever you listen to podcasts!
Here are a few ways I can help you: