Joe Evangelisti on Leadership Opportunities in the Self-Storage Industry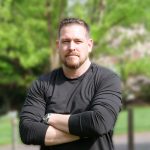 Once known as "The Flip King", Joe Evangelisti is now the host of The Legacy Blueprint podcast and a leading expert in real estate investing – specifically in the self-storage industry.
After experiencing "burn out" from chasing single and multi-family deals, Joe walked away from his wildly successful flipping empire and transitioned to the world of Self-Storage.
Today, Joe's mission is to show others how to tap into the massive opportunities hidden inside the self-storage industry. Opportunities that require far less time, less risk and exponentially more profits than any industry in real estate.
In addition to The Storage Syndicate, Joe also serves as the CEO of three 7 and 8 figure companies.
Prior to building his business and real estate empire, Joe served in the military as a Builder in the US Navy Seabees. He holds Letters of Commendation from the US Navy and The White House, a Letter of Appreciation from President Clinton, and numerous service medals. Joe lives with his wife Ashley and their 2 girls in beautiful Haddonfield, New Jersey.
Enjoy 🙂
Learn more about Joe Evangelisti and how he can help you succeed on his website here
Thanks for Supporting the Podcast!
The Team here at PYP has put together another uplifting, insightful, and inspiring show for you today. Our goal is to bring you timely, relevant, and useful conversations so that you can experience more success, energy, and LIFE as the leader of your business, career, side hustle, or passion.
If you haven't already been incredibly generous and awesome, now's your chance when you leave us a 5-star review!
Here are a few ways I can help you:

Share this episode with one person who could use a boost of inspiration and positivity today.
Grab your copy of my leadership playbook that teaches you the 11 skills you can quickly master to become an exceptional leader.
Buy one of my books on Amazon and leave me a 5-star review.
How's your writing these days? Is what you write and say more "ho-hum" than "oh ya!" Let's work on making your writing work better for you.  Book a free call with me today!