Jim McCarthy on the Almost Probable Certain Future of Live Entertainment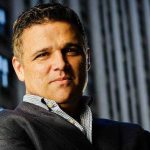 Today's guest Jim McCarthy is on to something with his current businesses. With most live entertainment venues still dark and empty, the big question for the industry these days is: how can the show go on?
As the co-founder and CEO of Stellar Tickets and Goldstar, a company that sells millions of live event tickets to millions of people on behalf of more than 5,000 venues and producers each year, Jim McCarthy is leading the charge on bringing "live" entertainment online. An e-commerce veteran, Jim has spent his entire career in high-growth businesses and likes to share his knowledge and insight with others.
He's the editor and main contributor to SellingOut.com a website for live entertainment and arts marketers. He's the curator and co-founder of TEDxBroadway, the sold-out annual event dedicated to the question: "What's the Best Broadway Can Be?" He's spoken at conferences all over the world, including TED, SXSW, INTIX, and more. His articles have been in Forbes, Fast Company, and Business Insider.
Jim McCarthy is also the organizer of the Pasadena Entrepreneurs' MasterMind Meetup, which Pasadena Business Now noted, "Jim McCarthy, CEO of Goldstar, discussed his personal philosophy of business and leadership. His stories of humanity and giving brought tears to many eyes and motivated all to do more for more. It was clear to all why Jim's MasterMind groups have a many-month waiting list to learn from him and his vision and insight."
Jim is also a very active member of the Board of Directors for Union Station Homeless Services as well as the Pasadena Playhouse. He studied English at Harvard University and received an MBA at UCLA Anderson School of Management. Jim also has a black belt in Northern Eagle Claw Kung Fu.
Links and Resources from Jim McCarthy
Thanks for Supporting the Podcast!
The Team here at PYP has put together another uplifting, insightful, and inspiring show for you today. Our goal is to bring you timely, relevant, and useful conversations so that you can experience more success, energy, and LIFE as the leader of your business, career, side hustle, or passion.
If you haven't already been incredibly generous and awesome, now's your chance when you leave us a review and make sure to subscribe to the show wherever you listen to podcasts!
Here are a few ways I can help you: