Jenna Cooper on Owning and Communicating Your Authentic Story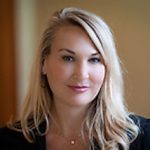 A seasoned public relations professional, Jenna Cooper, APR is Founder/President at The C3 Collective. Her nose for news has transplanted her in television broadcast markets across the country including Boise, Austin, Atlanta, and Seattle. Jenna has successfully woven her award-winning journalism skills together with high-profile public relations and communications positions, serving as a strategist and front-line spokesperson and President of the Public Relations Society of America, Portland Metro Chapter.
Most recently, she served as Director of Communications for PSU's School of Business, in the heart of downtown Portland. She also managed Communications at DoveLewis, the Northwest's only nonprofit emergency animal hospital. No matter the role, Jenna and her team take a holistic approach to the communications for all targeted audiences.
Jenna's communications campaigns have won several PRSA Portland Spotlight awards. The Associated Press and the prestigious Texas Headliners Foundation have awarded her for her excellence in journalism. Career highlights include reporting on the numerous court challenges and recounts stemming from the 2000 Presidential campaign, the 2003 Space Shuttle Columbia disaster in North Texas, and the volcanic activity in 2004 on Mt. St. Helens.
She is accredited in public relations from the Universal Accreditation Board through the Public Relations Society of America. She holds a Bachelor of Arts degree in Political Science from the University of Oregon. Cooper lives in Portland, Oregon with her brilliant daughter, and what is suspected to be, the world's most mellow Beagle.
This episode is dedicated to Dr. John "Jack" Cooper May 14, 1932 – March 29, 2021
Links and Resources from Jenna Cooper
Want to feel less stressed and more confident about making presentations? Jenna and her team have you covered!
Register for Jenna's webinar here to learn how to prepare for any presentation and keep your anxieties at ease.
Learn more about Jenna on the C3 Collective and Speak You website.
Thanks for Supporting the Podcast!
The Team here at PYP has put together another uplifting, insightful, and inspiring show for you today. Our goal is to bring you timely, relevant, and useful conversations so that you can experience more success, energy, and LIFE as the leader of your business, career, side hustle, or passion.
If you haven't already been incredibly generous and awesome, now's your chance when you leave us a review and make sure to subscribe to the show wherever you listen to podcasts!
Here are a few ways I can help you: