Giovanna Rossi Moves the Chains for Living a More Fulfilled Life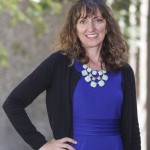 Listen to the episode (0:34:45)
Kick Off!
Giovanna Rossi is the President and Owner of Collective Action Strategies, LLC, a consulting firm dedicated to working with public and private sector agencies and groups to improve the health and lives of women and families through project management, strategic planning, policy development, social marketing, and training.
Giovanna holds a Master of Science degree in Public Policy from the London School of Economics, and a Bachelor of Arts degree in Spanish and Latin American Studies from the University of New Mexico. She is a member of the American Public Health Association and the New Mexico Public Health Association, and is the host of the Well Woman show, a radio show on NPR affiliate KUNM 89.9 fm and also a podcast on iTunes.
Move the Chains
As an independent consultant in the public policy space, Giovanna Rossi believed getting an office and hiring staff was the natural next step in the process of building her business.
"But one day when I sat down at my desk and looked out at the beautiful view of the mountains, I realized I'd made a terrible mistake," she recalls. "Leasing an office was not at all what I wanted to do."
Touchdown!
Finding herself stuck in the Red Zone, Giovanna gathered her team of trusted advisers around her. "We huddled up," she laughs. "I realized I needed to follow my intuition and take action on what mattered most to me."
Trusting her own voice, taking risks, and believing everything would work out okay took Giovanna into the End Zone for the game winning touchdown she'd been looking to get!
Interview Links
Like the show? Click the purple icon to subscribe in iTunes and leave me a review, which will help others find this inspirational content. Thank you for listening!