Erin Fults on Making the Most of the Seasons of Your Business and Life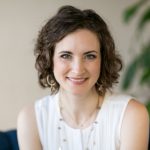 Erin Fults is a strategist, coach, implementer, and the founder of Acorn Studio, a business coaching, and marketing consultancy.
Erin passionately believes that healthy, sustainable small businesses can change the world. She helps business owners figure out the next right step to move their business forward and implement simple frameworks that maximize revenue and productivity.
As a Storybrand Certified Guide and a Business Made Simple Certified Coach, Erin draws on her background in photography, design, and entrepreneurship to help business owners confidently grow a business they love.
When she isn't obsessing over her clients' success, Erin and her husband, Jon, along with their three children, love hosting friends and family at their home in Mississippi. Most afternoons there are as many as 12 neighbor kids playing in her yard after school.
When she can catch a few moments to herself, Erin enjoys cycling and reading.
The verdict is still out on whether or not consuming stacks of marketing and business strategy books actually constitutes a hobby.
Links and Resources from Erin Fults
Learn more here about Erin Fults and how she can help you with marketing.
Get the Story Brand book
Get the Business Made Simple book
Thanks for Supporting the Podcast!
The Team here at PYP has put together another uplifting, insightful, and inspiring show for you today. Our goal is to bring you timely, relevant, and useful conversations so that you can experience more success, energy, and LIFE as the leader of your business, career, side hustle, or passion.
If you haven't already been incredibly generous and awesome, now's your chance when you leave us a review and make sure to subscribe to the show wherever you listen to podcasts!
Here are a few ways I can help you: