Elsie Escobar on Amplifying New Voices through Podcasting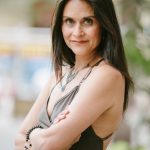 Elsie Escobar is a die-hard podcast junkie who lives, breathes, and works the medium since 2006. She has worked for Libsyn (where PYP is hosted) since 2007 and has had the pleasure of working with hundreds of podcasters, sharing tools for better production, educating them in the fast-moving podcasting space, as well as cultivating a strongly engaged community through The Feed: The Official Libsyn podcast which she both co-hosts and produces. The Feed's sole focus is on keeping people podcasting.
Elsie has pulsed with the podcasting space and grown from someone who had NO IDEA what a digital recorder was or how to record anything to someone who currently offers advice to thousands of people a month.
She knows the heart and soul of podcasters and podcasting well beyond iTunes and public media.
She has the unique perspective and expertise of a podcast listener, independent podcast producer, and podcasting industry analyst/personality.
She has co-run the largest community for women in podcasting with a corresponding podcast (of course) called She Podcasts whose sole mission is to empower women to continue to share their voices while creating a safe community of podcasting education and support.
As a mom of two daughters, Elsie has been known to say that "my MacBook Air and my iPhone are like my adopted children." Her sense of humor and all-around good nature make this episode extra fun.
Highlights from our conversation include:
The challenges with how people use social media today
Why she isn't a fan of online courses or Facebook but loves Twitter
What she learned was possible when she found herself owing $7000 in taxes
Plus so much more. Enjoy!
Links and Resources
Learn more about Elsie Escobar on her website
Listen to Libsyn's The Feed Podcast
Check out She Podcasts
Recommended book:
Quiet: The Power of Introverts in a World that Can't Stop Talking by Susan Cain
Thanks for Supporting the Podcast!
The Team here at PYP has put together another uplifting, insightful, and inspiring show for you today. Our goal is to bring you timely, relevant, and useful conversations so that you can experience more success, energy, and LIFE as the leader of your business, career, side hustle, or passion.
If you haven't already been incredibly generous and awesome, now's your chance when you leave us a review and make sure to subscribe to the show wherever you listen to podcasts!
Here are a few ways I can help you: