Dr. Phil Carson Dares to Dream Again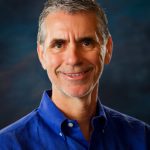 Listen to the episode (0:38:48)
Kick Off!
Too many Americans are living as prisoners in their own bodies, held captive by bad habits that have drained them of their livelihood and sentenced them to a premature death. These harsh realities are what have kept Dr. Phil Carson passionate about practicing pharmacy since 1985.
After encountering many patients who were seeking answers when their needs were not met by traditional medicine, Dr. Phil founded Carson Natural Health in 2005 with the mission of helping patients find the best natural solutions to their health problems. Patients come to him with problems and leave with renewed hope that they can be healthy again. In fact, he has not only consistently improved many patients' quality of life, but also literally saved a few of them.
Move the Chains
"I'll never forget the day I locked the door on my dream," Dr. Phil Carson recalls. "The harsh reality of 2009 was I had to file bankruptcy. I lost everything."
Had it not been for the kindness of a friend who called him and asked if he could work for his company, Dr. Phil Carson isn't sure how he would have ever gotten back on his feet.
Touchdown!
Today, Dr. Phil Carson has a thriving business along with a book he wrote to help people tackle the confusing information about healthy living so rampant in today's marketplace.
"The secret to my success today is that I dared to dream again, and then I found the right people to coach me in what I needed to do," he laughs. "It really does take a team to win in business."
Thanks to Aaron Walker (PYP MVP), Dr. Phil has a vision and a purpose today that is aligned with his beliefs and values about helping people lead healthier lives.
Interview Links
Grab Dr. Phil's book How to Live until You Die here or click the image:
Discover the "Write" Way You Can Have More Success! Like the show? Click the purple icon to subscribe in iTunes and leave me a review, which will help others find this inspirational content. Thank you for listening!