40: Playing Your Best Game & Pursuing Excellence — with Aaron Walker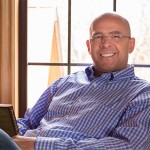 Kick Off!
Businessman and Life Coach Aaron T. Walker has inspired many through his leadership, mentorship, and consistent pursuit of excellence. He enjoys helping others and believes experience is a great teacher. 35 years of entrepreneurship and marriage have given Aaron a wealth of experience. Aaron continues to reach new heights and broaden his perspective of the terrain by examining his experiences and growing from them. Some highlights from Aaron's successful background include for 19 years and counting, Aaron has taken classes from and has been coached personally by his friend, financial guru, Dave Ramsey; taking his business from doing one to two projects per year to a multi-million dollar company, voted number one builder for three consecutive years by Nashville's House & Home & Garden Magazine's People's Choice Awards. He sold his retail business to Cash America USA, a Fortune 500 company.
Aaron values his time spent with family and friends. Sharing the past 35 years with his lovely wife Robin has been nothing short of spectacular. His two fantastic daughters and champion sons-in-law have given Aaron & Robin four beautiful grandchildren. When time allows, Aaron enjoys hunting, fishing, golf, and is an avid reader.
Move the Chains
"In a 36 year period, you get your bell rung a lot!" Aaron laughs. "There's a lot of 4th downs and 16 yards to go when you're in business for yourself."
Despite the many successes Aaron has known in his life, not everything has worked out according to his game plan. Like so many business people, he has fallen prey to the "shiny object syndrome," getting distracted by things that didn't serve his higher purpose. Aaron shares a story about a time when he allowed distractions to get the best of him, taking him out of the game.
Touchdown!
Wisdom his Mom shared with Aaron when he was growing up has served him for 36 years in business. He attributes her advice of never saying "can't" for the success he's known as a businessman, husband, and father. When faced with 4th down and yards to go into the end zone, Aaron always recalls what she told him and gives it everything's he's got no matter how impossible the odds may seem.
Interview Links
Like the show? Are you willing to help someone get more out of life? Click the purple icon to subscribe on Apple Podcasts and leave me a review. Your feedback will help others find this inspirational content. Thank you for listening!