Dirk van Reenen on Finding the Right People for Your Business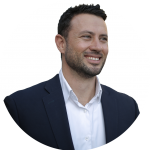 Dirk van Reenen is the founder and CEO of BERGflow, a company that specializes in helping small and medium sized businesses build better teams to grow faster, with higher profits, and more time freedom.
Dirk is an award-winning entrepreneur, international consultant, trainer, and former CEO of an $800 million a year sales organization. After a decade of experience in building fast growing companies by focusing on building strong teams, Dirk made some huge life changes in 2017.
Since 2017, Dirk has been focused on his real passion with BERGflow in working with ordinary small and medium sized business owners that really want to elevate their business and life by focusing on their people.
Learning how to hire the right people based on company culture, values, and vision, and then building collaborative teams in the workplace. It's the X Factor of growing and scaling successful business today, and it's what he specializes in.
Recommendations from Today's Episode
Get Dirk's generous offer here
The Alchemist
Great by Choice
Think and Grow Rich
The Fish that Ate the Whale
Multipliers
Thanks for Supporting the Play Your Position Podcast!
The Team here at PYP has put together another uplifting, insightful, and inspiring show for you today. Our goal is to bring you timely, relevant, and useful conversations so that you can experience more success, energy, and LIFE as the leader of your business, career, side hustle, or passion.
If you haven't already been incredibly generous and awesome, now's your chance when you leave us a 5-star review!
Here are a few ways I can help you:

Share this episode with one person who could use a boost of inspiration and positivity today.
Grab your copy of my leadership playbook that teaches you the 11 skills you can quickly master to become an exceptional leader.
Buy one of my books on Amazon and leave me a 5-star review.
How's your writing these days? Is what you write and say more "ho-hum" than "oh ya!" Let's work on making your writing work better for you.  Book a free call with me today!