Chad Austin on Making Fitness a Priority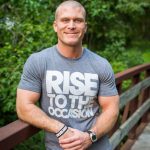 Chad Austin is a personal trainer, speaker, and the owner of Priority Fitness in Overland Park, Kansas.
Priority Fitness's name was inspired by Chad's best selling book, Make Fitness A Priority: How to win the fight against your excuses. Chad is passionate about helping people in all stages of life reach their fitness goals, and he is an expert at assisting his clients in making changes that lead to long term success, not just temporary success.
He also enjoys the occasional donut, and says you can, too.
As he likes to say, you can always get back on track!
Links and Resources from Chad Austin
Learn more about Chad and making fitness a priority here.
You can also follow him on Instagram @make.fitness.a.priority
Grab a copy of his book here.
Learn more about Susan James on her website.
Thanks for Supporting the Podcast!
The Team here at PYP has put together another uplifting, insightful, and inspiring show for you today. Our goal is to bring you timely, relevant, and useful conversations so that you can experience more success, energy, and LIFE as the leader of your business, career, side hustle, or passion.
If you haven't already been incredibly generous and awesome, now's your chance when you leave us a review and make sure to subscribe to the show wherever you listen to podcasts!
Here are a few ways I can help you: