Benson Agbortogo on the Business System that Never Fails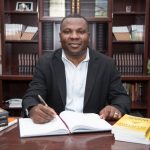 Benson Agbortogo is the creator of the Consistent Profit Tree System which helps business owners and entrepreneurs in the construction and service industry generate more profit while working fewer hours.
While living in his native African homeland, at age 13, Benson Agbortogo discovered the immense love of a wealthy God and embarked on a quest to eradicate poverty. Benson became a missionary pastor with the purpose of helping people dedicate their lives to God but noticed most people still struggled economically and lived in financial poverty.
The Lord urged Benson to seek to understand the timeless, proven, economic principles of creating wealth to help others experience financial abundance. He moved to the USA where he has earned both a B.S. in Business Management and an MBA. Since then, Benson has served business owners through his Kingdom-based consulting services. He has authored 4 books, including "The Business System That Never Fails."
Get a copy of Benson's book here
Connect with Benson on LinkedIn
Thanks for Supporting the Podcast!
The Team here at PYP has put together another uplifting, insightful, and inspiring show for you today. Our goal is to bring you timely, relevant, and useful conversations so that you can experience more success, energy, and LIFE as the leader of your business, career, side hustle, or passion.
If you haven't already been incredibly generous and awesome, now's your chance when you leave us a 5-star review!
Here are a few ways I can help you:

Share this episode with one person who could use a boost of inspiration and positivity today.
Grab your copy of my leadership playbook that teaches you the 11 skills you can quickly master to become an exceptional leader.
Buy one of my books on Amazon and leave me a 5-star review.
How's your writing these days? Is what you write and say more "ho-hum" than "oh ya!" Let's work on making your writing work better for you.  Book a free call with me today!