Ben Krueger on How Podcasting Can Make You a Better Leader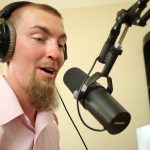 Ben Krueger is the founder and CEO of Cashflow Podcasting, where they help industry advocates reach more people, change more lives and move entire industries forward. Having collaborated on 100s of podcasts since 2012, they've developed 8 Podcast Principles that when applied, lead to highly effective business podcasts. Built on these principles, they've developed a proven system for leaders to host their own world-class podcast in a fraction of the time, and he's here today to share what he's learned.
Links and Resources
Learn more about Ben Krueger on his website.
Thanks for Supporting the Podcast!
The Team here at PYP has put together another uplifting, insightful, and inspiring show for you today. Our goal is to bring you timely, relevant, and useful conversations so that you can experience more success, energy, and LIFE as the leader of your business, career, side hustle, or passion.
If you haven't already been incredibly generous and awesome, now's your chance when you leave us a review and make sure to subscribe to the show wherever you listen to podcasts!
Here are a few ways I can help you: