Andrew Weiss on Teaching the Next Generation of Entrepreneurs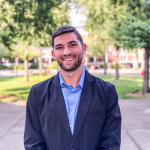 Listen to the episode (0:38:55)
Today's starting quarterback is Andrew Weiss. Born and raised in Oregon, Andrew grew up goofy and awkward and always up to trying new things. After struggling his freshman year of high school due to his lack of mastery and skills, he decided he had enough and dove into personal development. Andrew found a passion for public speaking after becoming president of Toastmasters at the University of Oregon (UO). Since then, he's done event planning for over 3500 students at UO, become executive director of a non-profit, and got voted the best public speaker in all of central and southern Oregon at 22 years old.
Andrew Weiss MVP player Stats:
Andrew currently works with a non-profit called Young Entrepreneurs Business Week (YEBW), a liaison program for schools, companies, and students around Oregon. They teach business and professional skills to high schools students on a college campus over the summer, and their goal is to build the next generation of leaders and educate them, teaching things such as how to run a multimillion-dollar company, how to make their own business, invention skills, job interview skills, etiquette skills, and to make sure they have more opportunity with their future. Andrew's job is to spread awareness of the program and to maintain relationships with the community.
Andrew also runs his business as a public speaking coach. He regularly coaches people who want to overcome their fear of presentations and figure out how they can engage more audiences when they present. Andrew is also the author of Tucan Play at This Game and his passion is helping people become better leaders with powerful presentation skills. Not to mention, he is the pun-master and considers himself "punnomenal."
In this episode, we talk about why it's important the YEBW program exists, the real-life experience the students get from it, and how Andrew's past experiences played a significant role with his involvement at YEBW. Andrew also gives his perspective as a kid on the world financial crisis and how it impacted him growing up. He also shares how he learned from his moments of failure (or lightbulb moments) that have applied to the work he does today.
Andrew gives advice and strategies out of his playbook on ways people can set goals, manage time, get advice and mentorship, and most importantly, how to take action!
Keep the conversation going by sharing this episode with your friends, colleagues, and social media!
Thanks so much for listening. 🙂
Click the cover to get Andrew's book: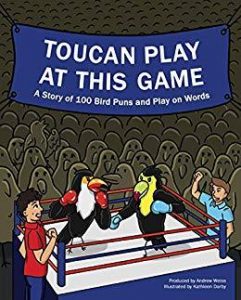 Quotes
"That's why it's so important to be part of this program where we're helping show people this is what the professional world is like and we want to help you thrive as much as possible."
"I said, "You know what, I need to stop caring what people think about me." and that's definitely like kind of a light bulb moment for me is that when you stop caring about what people think about you, people usually like you more for that [laughs]."
"People who have constructive feedback for you, they're the ones who actually care about you and want you to do better…versus if someone just says, "oh good job" all the time or ignores what you're doing, then they don't really care about your future."
"You're the average of the 5 people you spend the most time with."
"I really encourage people to do is just constantly reach out and ask for advice and of course take action."
LINKS
Like the show? Click the purple icon to subscribe in iTunes and leave me a review, which will help others find this inspirational content. Thank you for listening!