Will Cuddy — "Great Things Happen When We Appreciate Others"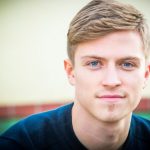 Listen to the episode (0:51:43)
Kick Off!
He's crashed the Toronto Film Festival. Had dinner with author and TED Talk extraordinaire Amy Cuddy and her family in the nicest restaurant in Boston (no relation despite sharing the same last name). Imitated his favorite superhero in a bathroom stall before nailing an audition. Won multiple awards for his indie film "Linea." Attended Oscar parties with Hollywood A-listers and acted across from Award-winning actress Reese Witherspoon in the critically acclaimed film, "Wild" (based on fellow Portlander Cheryl Strayed's best selling memoir).
He is also an American film actor and director who appeared on NBC's "Grimm," former acapella singer, Oregon Ducks fan, and happens to be my neighbor. His name is Will Cuddy, and you are going to love his take on the future of film, how to be bold, and the truth about Millennials. Will was born in Beaverton, Oregon where at the age of nine he began his acting career on stage. As a teenager, he was selected for Discovery Kid's reality show "Endurance: Fiji" before shifting his focus to screen acting. Today, Will Cuddy resides in Portland, Oregon where he continues to direct commercial and narrative works as he plans his next big film project.
Move the Chains
After his success with "Wild," Will Cuddy decided he wanted to get behind the camera and try his hand at directing. Leveraging his experiences in the industry, he got creative and set his sites on working with world renowned director, Jean-Marc Vallée. This goal led Will on a wild journey of his own as he thought of creative ways to get Vallée's attention.
Despite heroic efforts for more than two years on Will's part to land a position working with the iconic director, things didn't work out…this time. He remains optimistic, however, and believes more than ever that hard work and persistence eventually pay off.
Touchdown!
Will's boldness has indeed paid off in other ways. After learning about Amy Cuddy's concept of presence and putting it into practice before an audition, Will sent her an email telling her how much he appreciated her and that she made a difference in his life.
What happened next proves how small acts of genuine appreciation can lead to great things. Not only did Amy Cuddy respond to his email, she asked Will if she could interview him for her book Presence: Bringing Your Boldest Self to Your Biggest Challenges. The two have since developed a friendship that has enriched each other's lives in multiple ways.
Interview Links
A Pitch to Jean-Marc Vallée from Will Cuddy on Vimeo.
Discover the "Write" Way You Can Have More Success!
Like the show? Click the purple icon to subscribe in iTunes and leave me a review, which will help others find this inspirational content. Thank you for listening!