Amanda Clements on Getting Your Head Back in the Game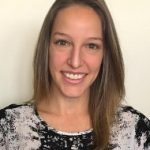 Amanda Clements is a Certified Professional Coach (CPC) who specializes in teaching and training the mental aspects of sports. She helps athletes perform under pressure, overcome disappointments, handle stress, and increase emotional intelligence.
Her "whole life" approach can also help those who feel they are lacking direction, purpose, motivation, organization, passion, and/or life balance. She has experience working with a wide range of age groups and uses mental performance techniques to help her clients achieve their desired goals.
Amanda's twenty-year sports career includes competing as a Division I gymnast and playing defensive back for Washington, DC's semi-pro, women's football team. It was her own, emotional struggle with transitioning out of competition that ultimately led her to combine her coaching practice with her love of sports.
She now finds purpose in helping other athletes excel during their competitive careers, as well as navigate the transition into life thereafter.
Amanda graduated from Towson University with a B.S. in Anthropology and Sociology. She later completed her CPC with the Institute for Professional Excellence in Coaching. In addition to her work through MD Sports, she is also the owner and operator of Beyond the Game, LLC.
She lives in the Washington DC area and is here today to teach us all how to get our heads back in the game after the craziness 2020 handed us.
Links and Resources from Amanda Clements
Learn more about Amanda Clements on her website here.
Thanks for Supporting the Podcast!
The Team here at PYP has put together another uplifting, insightful, and inspiring show for you today. Our goal is to bring you timely, relevant, and useful conversations so that you can experience more success, energy, and LIFE as the leader of your business, career, side hustle, or passion.
If you haven't already been incredibly generous and awesome, now's your chance when you leave us a review and make sure to subscribe to the show wherever you listen to podcasts!
Here are a few ways I can help you: