8: Finding Your Zone of Genius — with Tim Sieck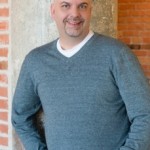 Listen to the episode (0:24:48)
Kick Off!
Tim Sieck is a principal partner with On Target Talent, an MT Endeavors company.  On Target Talent is a professional services firm specializing in helping organizations assess, develop, and retain key talent.
Additionally, Tim is an adjunct faculty member at Upper Iowa University. His

 educational background includes a bachelor's degree from Upper Iowa University, and a master's degree in Organizational Management.  Tim's work has included clients such as Ford, Apple Inc., McDonalds, BP, and Chevron.
The position Tim loves to play most is one that allows him to help people figure out what they're good at and how they can contribute their highest and best to an organization.
Move the Chains
Early in his career, Tim learned a very valuable lesson: sitting in an office anchored to a desk from 9-5 five days a week was NOT a good match for his strengths or interests.
Recognizing that he needs both freedom and autonomy in the workplace, he was able to articulate these needs to his manager and get placed in a position that capitalized on the gifts Tim brought to the team.
Now, two of the first questions Tim asks any new client are these:
1. Why are you dissatisfied with what you are currently doing?
2. How can you be more satisfied?
Finally, Tim says the organization you work for will never be your biggest advocate, so it's up to you to guide and shape your career path based on what you know most about yourself, including your strengths, aptitudes, and preferences.
Touchdown!
Tim scored two touchdowns on today's show, a Play Your Position Podcast first! 🙂
The first touchdown came when he talked about discovering your Individual Genius, which is visually represented right here: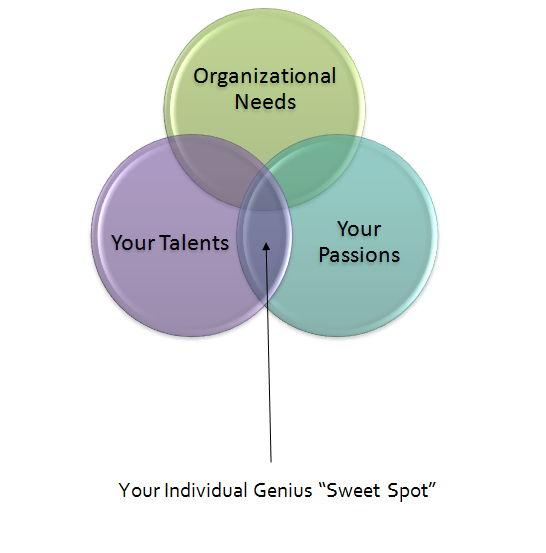 The second touchdown came when he shared the story about when he was able to get the company he was working for to take their business into Latin America. Not long after he started working with organizations in Latin America, Tim realized that managers and employees face the same challenges all over the world — just in different languages. Fascinated by Latin America and its rich culture, Tim works hard to take his professional skills to countries in South America as often as possible.
Interview Links
To connect with Tim, you can visit his company website On Target Talent or you can connect with him on Twitter @tsieck
If you enjoyed the show, I would really appreciate your review in iTunes!