10: Helping Others Get What They Want — with Nobby Kleinman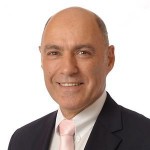 Listen to the episode (0:27:36)
Kick Off!
Nobby Kleinman of Melbourne, Victoria, Australia has been playing his own game for as long as he can remember, scoring points and winning games for years. As an expert in the financial space, Nobby has helped thousands of people manage their money more effectively and yield positive returns on their investments. He loves Zig Ziglar's philosophy of helping as many people get what they want so you can get what you want.
Move the Chains
Nobby believes the greatest invention of our time is the Internet. Technology has done so much and created so many opportunities for people across the globe, including the chance to connect with people who can help you get what you need to get done in business and life. An early adopter of not only computers, but a newsletter mailed out to clients as a means of communicating and marketing, Nobby has been blazing an entrepreneurial trail for close to three decades.
Touchdown!
The most memorable touchdown of Nobby's professional life was the time when he bought a business from an acquaintance and was able to get him 3 1/2 times the value of the business after five years. He then went on to sell that business on his own terms, astonishing people in his life and proving his point that doing things differently does pay off when done deliberately.
Interview Links
If you enjoyed the show, I would really appreciate your review in iTunes!