36: Putting Players First & Overcoming Adversity — with Meredith Berkich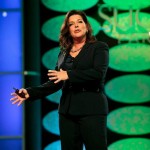 Kick Off!
Meredith Berkich has a 25-year track record of leadership and expertise in the direct selling industry; companies bring her on to develop field sales systems and add her powerful influence to network marketing models. Forthright and dedicated, equal parts strategist and enthusiastic coach, Meredith partners with corporations and top field leaders to develop and maximize their success plans through go-to-market design, sales compensation and incentives, training programs and recognition events. In so doing, she expertly and competently ensures long-term growth and profitability with her partners.
Success is simply a given for Meredith. As a rising star, she became the youngest field Division Organizer in the 20-year history of an established durable goods network marketing company, followed up by her entry into the corporate senior management ranks at an industry leading company offering high quality neutraceuticals within direct selling. Most recently as the President of a thriving MLM in the commodity space, she took the company from 50 million dollars in annual revenue to over 265 million in four years.
Meredith believes, "The best developed strategies will fail when individuals aren't empowered to execute them. This is why personal development and excellence is everything."
Move the Chains
As a leader, Meredith Berkich understands the innate drive top achievers have to get things done. One of the pitfalls of leadership, however, can be doing things yourself in the name of getting things done. The secret to winning games in business and in life is not trying to carry the entire team on your shoulders, but instead learning how to leverage the talents of each player so the team can work in harmony and achieve greatness.
Touchdown!
One of Meredith's most revered touchdowns came years ago when she was a field leader and had a team looking to achieve a high rank with the company. That rank had eluded Meredith and her team for a couple of years — until Meredith wrote up a new game plan and had everyone execute it together. What happened next is the stuff legends are made of.
Meredith's Book Recommendations 
Click on any of the images to check out the books Meredith recommends.
Interview Links
Connect with Meredith Berkich on her Facebook and Twitter pages.
Like the show? Click the purple icon to subscribe in iTunes and leave me a review, which will help others can find this inspirational content. Thank you for listening!