19: Shattering the Glass Ceiling — with Kelly Fidel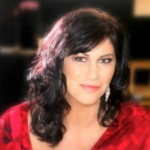 Listen to the episode (0:28:09)
Kick Off!
Kelly Fidel is America's Premier Sales Expert in landing lucrative larger clients. She is a professional speaker, author, and business strategist. Harnessing more than 28 years of expertise as a powerhouse corporate executive running billion dollar sales divisions, Kelly has successfully navigated the world of corporate dealmakers and boardrooms, and has worked with some pretty amazing clients including the NFL, Mercedes Benz, and Warner Brothers Entertainment. She has also been featured on CBS, NBC, the Wall Street Journal, and over 150 powerful media partners.
As Founder and CEO of No Glass Ceiling™ Kelly is committed to helping women break through barriers and live the life they are meant to live. And if all that wasn't enough, Kelly is also a highly dedicated football Mom!
Move the Chains
Kelly's journey started at the ripe old age of 9 when she wanted to get a pair of red shoes her family couldn't afford. Encouraged by her mother to earn the money herself, Kelly sold avocados to families in her neighborhood — and sold out almost immediately. Kelly quickly discovered she had a knack for sales, and has since closed dozens of sales for others as well as for her own business totaling several million dollars.
Touchdown!
Although Kelly Fidel has had a lot of success in her life, she considers her No Glass Ceiling™ event and movement her crowning achievement. In honor of her late mother, the first annual No Glass Ceiling™ event takes place on October 9-11, 2014 near Las Vegas.
Interview Links
Find out more about Kelly's incredible event over at No Glass Ceiling™
Connect with Kelly on Facebook and her website.
If you enjoyed the show, be sure to subscribe in iTunes and leave me a review! Thank you!