Gordon Graham on Navigating the Dark Waters of Deep Corruption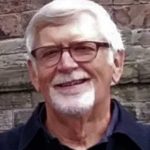 Imagine working on the leadership team for a renowned organization that services thousands of customers — only to learn that not everyone on the team is operating ethically or morally.
What would you do?
Today's guest found himself in this position and his story of what happened after his discovery is the topic of his book — and of our conversation. If leadership matters to you in any way, you don't want to miss this episode. Gordon Graham gives us a front row seat to what happens when corruption infiltrates an organization — and it's a wild, insightful ride.
= = = = =
Gordon Graham is a former information technology professional with over 30 years of experience in the electric utility industry. During his career, he was recognized by peers and industry trade associations as an authority on information technology management issues and was a sought-after speaker on information technology strategy and aligning technology with business.
In addition to his decades-long career, Gordon earned an AAS degree in computer science from Columbia Basin College, a BA in public administration from the University of Puget Sound, and an MBA in information technology management from City University, along with numerous certifications in IT and project management. He has served as the information technology section chair for the Northwest Public Power Association and as both information technology section chair and vice chair of the Business and Finance Committee for the American Public Power Association. Additionally, he has also served on curriculum committees for Wenatchee Valley College and NCW High School Skills Center.
Now retired, Mr. Graham lives in Oregon with his wife, where they enjoy gardening, boating, and traveling.
Connect with Gordon Graham
Recommended Books & Resources
Inspirational Leader by Gifford Thomas
The Servant Leader by Ken Blanchard 
Read more about FOFO (Fear of Finding Out)
= = = = =
The Team here at PYP has put together another uplifting, insightful, and inspiring show for you today. Our goal is to bring you timely, relevant, and useful conversations so that you can experience more success, energy, and life on your leadership journey.
= = = = =
My latest book, The Far Unlit Unknown — is available now! Grab your copy here
Here are three more ways I can help you:
Share this episode with one person who could use a boost of inspiration and positivity today.
Bring me in to speak at your next event.
Book a free call with me today to discuss that book you finally want to write this year.
Episode Summary
The problem with oversight responsibility. (0:02)
When did Gordon get the call to leadership? (3:35)
How to deal with dysfunction in your organization? (8:49)
The importance of documenting your processes and results. (13:50)
Gordon's perspective on privatizing the utility. (18:36)
The Privatization of the Puget Sound. (23:43)
Can a whistleblower turn a corrupt ship around? (28:07)
How to recognize dysfunction in an organization? (32:25)
Advice for people on their leadership journey. (37:53)
FOMO (fear of missing out). (42:42)