7: Fly Fishing and Other Secrets of Success — with Chad Brown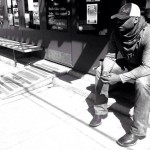 Listen to the episode (0:24:17)
Kick Off!
Chad Brown discovered the magic of fly fishing after returning from military service. Struggling with PTSD, Chad remembers the first time he hooked a fish, saying the experience was more powerful for the healing process than the medication he was taking.
He was literally "hooked" from that point forward, and is now the Creative Director for a movement known as Soul River, a company who's mission includes inspiring the minds of urban youth through its fly-fishing inspired apparel and brand.
Move the Chains
An artist at heart, Chad has been passionate about good design for as long as he can remember. His journey hasn't always been easy. In today's episode, Chad recalls a time when he was flown to Hong King to pitch one of the biggest brands in Asia and how that one experience brought him to his knees and subsequently shaped the way he approached his business from that day forward.
Touchdown!
Chad's first big break came when he was just out of design school…and six months behind on his rent. Through a series of fortunate events, Chad was invited to pitch some design concepts to Russell Simmons of Phat Farm — and went on to land a contract that not only caught him up on his rent, but also gave him the leverage he needed to take his design business to the next level.
These days, Chad is scoring touchdowns and winning games through his work with urban youth and veterans and their families, giving them river experiences that open them to new worlds and possibilities.
Interview Links
Connect with Chad Brown on his website, Soul River Runs Deep.
Video
If you enjoyed the show, I would really appreciate your review in iTunes!