9: The Transformative Power of Music — with Carol Ann Jones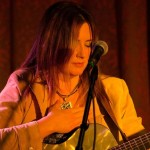 Listen to the episode (0:32:48)
Kick Off!
Carol Ann Jones has loved music since she was a little girl, but it wasn't until after she'd raised her family and become a dairy farmer that she decided it was time to chronicle her life in music.
She wrote all of the songs on her debut album "Out of the Blue," and has since written and performed many other songs. Carol's music hit the national airwaves in early 2010 when her song "All about the Wheels" was featured on NPR's popular show "Car Talk" with Click & Clack.
That same year, her music aired on several Vermont stations, and she has some exciting things in the works with a pilot show about singer/songwriters that could get picked up by The Discovery Channel, the Travel Channel, or Public Television.
Carol Ann recently made her theatrical debut in an original play titled, "Girl in the Other Room," and her original music scores the play.
Move the Chains
These days, you can find Carol Ann singing and performing in a number of venues, from the local watering hole to the halls of assisted living facilities and nursing homes around the state of Vermont. She believes that serendipity can lead to great new experiences, and plays her position accordingly to not only serve others, but grow herself as well. Having witnessed first hand the transformative power of music, she envisions the rest of her life will be dedicated to bringing music to others in one way or another.
Touchdown!
One of Carol Ann's mantras is "Be brave and sing out!" and nowhere was that more relevant for her than when she discovered a family secret that changed her life forever. Listen to the show to hear her story!
Interview Links
If you enjoyed the show, I would really appreciate your review in iTunes!