Bob Glazer on How to Elevate Peak Performance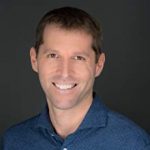 Bob Glazer is the founder and CEO of a global performance marketing agency
Acceleration Partners.
Under his leadership, Acceleration Partners has become a recognized global leader in the affiliate marketing industry, receiving numerous industry and company culture awards, including Glassdoor's Employees' ChoiceAwards (2 years in a row), Ad Age's Best Place to Work, Entrepreneur's Top CompanyCulture (2 years in a row), Inc. Magazine's Best Place to Work, Great Place to Work & Fortune's Best Small & Medium Workplaces (3 years in a row) and Boston Globe's Top Workplaces (2 years in a row). Bob was also named to Glassdoor's list of Top CEOs of Small & Medium US Companies, ranking #2.
Bob is dedicated to helping others build their capacities and raise their personal and professional performance—whether that means scaling a business, strengthening their health, improving their relationships or finding their purpose in life.
His inspirational Friday Forward newsletter is read by over 100,000 leaders around the world and he is a regular columnist for Inc, Forbes, and Entrepreneur. He is a sought- after speaker worldwide and is the author of the best-selling book Performance Partnerships and his new book Elevate, which will be released on October 1, 2019.
Bob's writing and speaking are focused on capacity building, performance marketing, building world-class company cultures and changing the work-life paradigm.
Bob is committed to sharing his experiences as a CEO, author, and speaker with others, giving individuals and organizations the tools they need to grow their capacity, inspire others to do the same and elevating their performance.
Keep the conversation going and share this episode with someone who could use a dose of inspiration today.
Thanks so much for listening. 🙂
LINKS
Learn more about Bob Glazer here!
Get more out of PYP with these links:
We always appreciate your rating and review on iTunes!
Like the show? Click the purple icon to subscribe in iTunes and leave me a review, which will help others find this inspirational content. Thank you for listening!