47: Changing the Game Using Periscope and Live Streaming — with Alessandra Colaci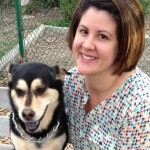 Listen to the episode (0:27:35)
In just 2 short hours...
...learn the skills that can make you an exceptional leader! I'll send you my leadership playbook directly to your inbox, right now!
Kick Off!
Alessandra Colaci has been a strategist in social media and technology for over 10 years. She has worked with Fortune 500 brands and small businesses to help them grow online reach and increase engagement. In her own startup, she grew traffic to millions of monthly visitors and has been mentioned in publications such as The Wall Street Journal. She is a speaker on multiple topics such as marketing, startups, and emerging technologies, including Periscope, the latest live streaming vehicle that leverages Twitter.
Move the Chains
In the mid 2000's, Alessandra had a website that was attracting millions of visitors to it every month. She says, "It was an income producing site, so you can imagine my shock when I discovered one day it was completely down." What happened next gives all of us insight into how to get through what seem like insurmountable circumstances.
Touchdown!
Being unafraid of getting in early on emerging trends has served Alessandra well, especially with Periscope. "Learning as I go along has been the competitive advantage for me," she says.
She is now hosting a podcast that focuses solely on the rising stars of live streaming, and having a lot of fun with the show!
Interview Links
Follow Alessandra on Twitter @AlessandraCo
Like the show? Click the purple icon to subscribe in iTunes and leave me a review, which will help others find this inspirational content. Thank you for listening!